Stay with us
Hoi An Pho Library Hotel is home to 26 individually crafted and intimate rooms, each containing oversized comfortable beds, WiFi, flat screen television, cable television, mini bar, waterfall shower and a selection of books for your comfort. The rooms contain art work and ceramic items, as Hoi An is famous for its ceramics and pottery. The unique clay is the building material for the buildings in the Old Town that make Hoi An iconic and UNESCO heritage listed. In addition, all walls have additional sound proofing to minimize noise and our deluxe and deluxe family rooms have European sound proof windows as standard to offer a blissful noise free sleep.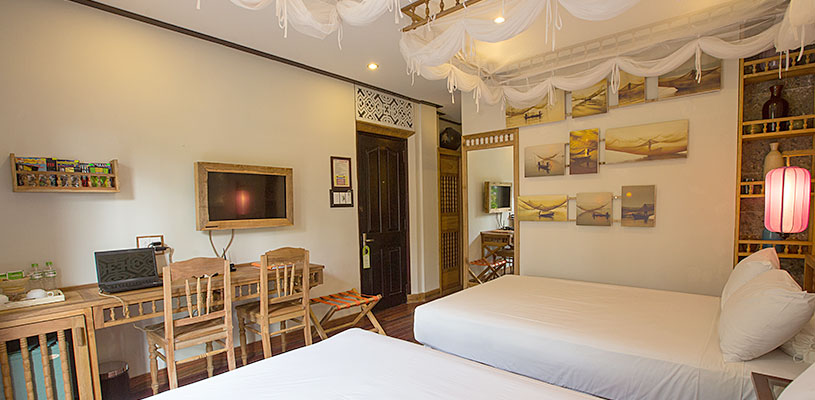 We have 3 different room types: superior, deluxe, and deluxe family.
Our 16 superior rooms comprise 9 double and 7 twin rooms. In addition to the amenities and room features above, the double rooms also include a sofa that is also an additional bed, and as such can sleep 3 people (for a small extra charge).
Our 7 deluxe rooms contain 2 double and 5 twin rooms. All except one of our deluxe rooms have a small balcony that enjoys the cool evening breezes in Hoi An.
Located on the top floor adjacent to the Sky Garden and swimming pool, our deluxe family rooms contain a double bed and 2 single beds. All deluxe family rooms offer stunning views of the Hoi An Old Town.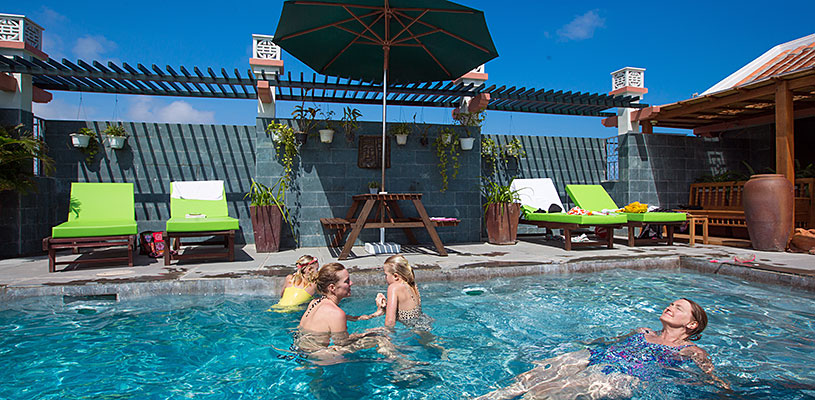 The path to your room is a grand and elegant, sweeping stair case, so it is important to us you are comfortable with your room type. Our superior and deluxe rooms are located on the ground, first, second floors and our family rooms on the third floor.
Our friendly staff will carry your luggage to and from your room during your stay.
Please select your floor preference, if you have one, when making your reservation.