Hotel information
WELCOME TO HOI AN PHO LIBRARY HOTEL
Formerly named the HOI AN PHO Library, the Hoi An Pho has undergone an extensive refurbishment and has returned to life as a warm, stylish and contemporary boutique hotel. Rich with local art and culture, the hotel also hosts a large library of books in our reception and dining areas for our guests to enjoy. The books were hand-picked to create a reading and reference library for relaxation, inspiration and knowledge. The hotel is decorated in "art boutique" style with all furnitures handmade by traditional Vietnamese craftsmen using fine Vietnamese wood. We have 25 stylish and contemporary guest rooms located on 4 floors. A grand stair case leads to each floor.Each room is filled with locally handmade furniture. The walls have extra sound proofing to minimize noise and all our deluxe and deluxe family rooms have European sound proof glass windows and sliding doors. All rooms are full equipped and have a selection of books to enjoy. We are passionate about offering our guests a refuge of warmth and welcome every time they join us and feel as though in a "home away from home". LOCATION perfectly placed to be a short walk from the streets of Hoi An Old City but far enough away to be out of the rush. Quiet street but good restaurants close by and good shopping out of the main stream. There is a pool on the upper floor for those hot days of summer. Friendly staff, clean rooms and decent breakfast.. Distances from Hoi An Pho Library to: • Hoi An ancient town (0,5km) • Kim Bong carpentry village (2,5km) • Thanh Ha pottery village (3km) • Tra Que vegetable village (3km) • Cam Thanh eco-tours (5km) • An Bang beach (4.5km) • Nearby Danang Golf courses (15km) • Danang Marble Mountains (18km) • Danang Museum of Cham Sculpture (27km) • My Son Cham Holy Land (50km)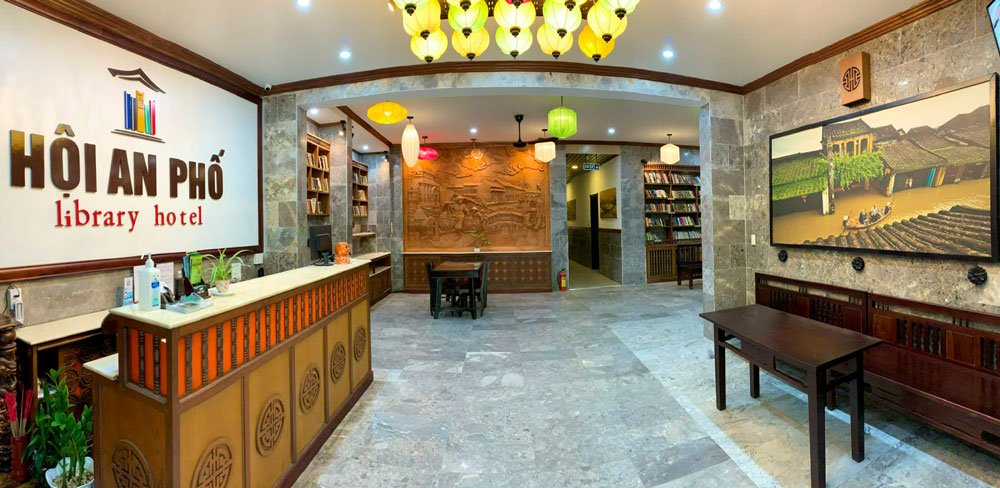 The hotel is decorated in "art boutique" style with all furniture handmade by traditional Vietnamese craftsmen using fine Vietnamese wood. The traditional Vietnamese architecture within the building has been highlighted and accentuated to highlight its style.
We welcome our guests to enjoy our books in our Library Corner, where a menu of great coffee and delicious food is available.
We have 25 stylish and contemporary guest rooms located on 4 floors. A grand stair case leads to each floor. Guests are welcome to select rooms on the floor of their choice. Each room is filled with locally hand made furniture. The walls have extra sound proofing to minimize noise and all our deluxe and deluxe family rooms have European sound proof glass windows and sliding doors. All rooms have large comfortable beds, waterfall showers, flat screen televisions, cable television, free WiFi, mini bar and a selection of books to enjoy.
We offer an extensive room service menu, or you can dine or enjoy a beverage in our Library Corner Cafe, or outside on our Coffee Corner terrace. If you would prefer a swim, we have the only roof top swimming pool and sky garden in Hoi An, perfect for a cocktail or snacks, after a day exploring Hoi An.
The hotel offers an elegant hotel experience, complete with concierge, who can tailor a personal itinerary for your stay. We offer room service, tour desk and laundry service, though at an affordable price, for people who are a little more discerning about their accommodation choices.
We are passionate about offering our guests a refuge of warmth and welcome every time they join us and feel as though in a "home away from home". Our staff are all Hoi An locals and are passionate about customer service and guests enjoying their home town. Above all, we want you to ENJOY the Hoi An Pho Library Hotel. It is our pleasure to welcome you to the Hoi An Pho Library.